Regular price
$44.97 USD
Sale price
$16.98 USD
Unit price
per
Sale
Sold out
Our 3D wooden puzzle replicates the iconic London Bridge and brings a piece of history into your home. With high-quality wood and precision-cut pieces, this 3D puzzle for adults is perfect for hobbyists and collectors. It makes a unique and thoughtful gift or a stunning home decor piece. Exercise caution when assembling, and use the included instructions. Batteries (not included) are required to light it up.
SPECIFICATIONS
Tower Bridge TG412
Rowood 3D Puzzles for Adults,Wooden Model Kits for Adults to Build,Birthday London Tower Bridge with LED
[ Inspired by the Iconic London Bridge ] - Our 3D wooden puzzle is designed to replicate the famous London Bridge, allowing you to bring a piece of history and architecture into your home. Immerse yourself in the rich background and story of this iconic landmark while enjoying the challenge of assembling this intricate 3D puzzle for adults.
[ Exquisite Craftsmanship & Attention to Detail ] - Made from high-quality, eco-friendly wood materials, our 3D wooden puzzles for adults boast unmatched precision-cut pieces that fit together seamlessly. The intricate design and attention to detail make this model kit for adults a standout piece perfect for hobbyists and collectors alike.
[ The Perfect Gift for Any Occasion ] - Looking for a unique and thoughtful gift for a loved one? This 3D puzzle is an excellent choice for birthdays, holidays. With its beautiful design and engaging assembly process, it's a memorable present that friends and family will cherish for years to come.
[ Elegant Home Decor & Conversation Starter ] - Once assembled, this London Bridge 3D puzzle functions as a stunning piece of home decor. Display it proudly on a shelf or mantel to add a touch of sophistication and history to your space, and watch as it sparks conversations and admiration from guests.
[ Assembly Tips & Precautions ] - While our 3D puzzles for adults are designed for a smooth and enjoyable assembly experience, please exercise caution when handling small pieces and use the included instructions to guide you. Take your time, have patience, and enjoy the rewarding process of creating your own London Bridge masterpiece. This wooden model kit include no batteries,which means you need to buy two AAA batteries and turn on the bottom switch to light it up.
Wood piece:113 pieces;
Assembly time:about 1.5 hours.
Assembly Size:360*75*117mm
Item Dimensions LxWxH: 14.17 x 2.95 x 4.6 inches
Big Ben TG507
ROBOTIME 3D Puzzle for Adults Wooden Craft Kits for Teens DIY Construction Model Kit with LED Light to Build Educational Big Ben Set Toys Birthday Gifts
【DIY Big Ben Model Kit】This 3D wooden Big Ben puzzle with LED light is a British landmark and one of the most famous Gothic buildings in the world, ancient and elegant. Assemble Size: 3.9x4.2x7.5in.
【Decent Gifts】This DIY Big Ben model kit is the best gift for teens, friends, family members, architectural enthusiasts around the world or those who love handmade crafts on birthday, Christmas, or another occasion.
【Funny DIY Experince】It's better to share a funny time with your kids to complete it together. You will feel a sense of accomplishment. It helps also cultivate children's hand eye coordination ability and intellectual development.
【Premium Quality】This wooden craft kit made safe from high-precision laser cutting technology, 220 pcs, controls the error within five microns, non-toxic, tasteless and recyclable safety materials. No tools nor glue needed, all you need is in the package.
【Perfect Decoration】Our Big Ben model kit is good for Home decoration. It looks great to show on your table, bookshelf, add it in your collections or hang on the window, wherever you put, it makes your home more exquisite and vintage.
【Get More Ideas】If you have more creative DIY ideas to re-decorate the kit, do not hesitate to do it! Add your special touch to the work, always can be more fun.
Wood piece:220 pieces;
Assembly time:about 1.5 hours.
Assembly Size:101*107*191mm
Item Dimensions LxWxH: 4.2 x 3.9 x 7.5 inches
Package size:229*153.5*30.5mm
Certificates:EN71,CE,FSC,FCC;
Recommend age:8+,children under the age of 8 can complete the assembly accompanied by their parents.
Arc de Triomphe
Wood piece:118 pcs;
Assembly time:about 1 hours.
Recommend age:8+,children under the age of 8 can complete the assembly accompanied by their parents.
Assemble size:140*90*128 mm
Package size:229*155*13.6 mm
Leaning Tower of Pisa TG304
Wood piece:173 pcs;
Assembly time:about 1.5 hours.
Recommend age:8+,children under the age of 8 can complete the assembly accompanied by their parents.
Assemble size:92*77*178.5 mm
Package size:229*155*11.6 mm
Paris Tower TG501
Hands Craft DIY 3D Wooden Puzzle – Eiffel Tower Buildings Laser Cut Assembly Model Kit Brain Teaser Puzzles Educational STEM Toy Adults and Teens to Build Safe and Non-Toxic Premium Wood TG501
✔️ 3D WOODEN PUZZLE KIT – Ready to amaze your friends and family with this fun to build 3D Wooden Puzzle? It looks just like the picture when put together! Choose your favorite famous buildings designs or collect them all! These laser-cut puzzles are DIY, so your kid gets to put it together as a fun hobby activity that is also mentally stimulating and can be displayed as home decor. Great for boys and girls, including adults, this quiet do-it-yourself activity is perfect for the entire family.
😊 SAFE & NON-TOXIC – Made of high quality safe, environmentally friendly plywood materials that have grooved edges with smooth finish and no jagged edges to make it safe for children! The fact that our supplies are non-toxic and safe for the environment is an added bonus. It's crafted with care to be long-lasting and durable. Each puzzle comes with easy-to-punch-out pieces from wooden sheets with easy to follow step by step assembly instructions. Keep your kids safe while letting them have fun!
💡 EDUCATIONAL, STIMULATING ACTIVITY – This is a great interactive toy for all kids who like to engage in STEM learning with the best interactive materials available. Our DIY 3D wooden puzzles stimulate creativity, enhances focus, improves fine motor skills, and teaches patience. No tools or glue are required so you don't need any extra equipment to use this multipiece 3-dimensional puzzle, and your kids can freely work on these 3D puzzles without supervision. Smart kids play with smart toys!
🏆 HIGH QUALITY UNIQUE DESIGNS – These modern wooden puzzles are beautifully crafted and once assembled, becomes fun 3D display pieces. It comes with laser-cut wooden puzzle pieces with a piece of sandpaper included to help pieces fit better. Assemble into stunning famous buildings designed with fine, delicate details to bring them to life. With such cool decor and details that is also a stimulating and educational activity for children, these 3D modern DIY wooden puzzles are sure to impress.
🎁 AMAZING GIFT IDEA – DIY 3D wooden puzzles are made for anyone to enjoy. It's the perfect present to give to children ages 14+, siblings, relatives, or friends. Easy enough for anybody to craft together, the amazing craftsmanship quality and educational element will make this anyone's favorite go-to gift to give kids and adults. Get one or more kits from our modern puzzle series and collect them all for yourself or a loved one for their birthday, Christmas, holidays or other special occasion.
ILLUSTRATED INSTRUCTIONS - Everything in this DIY miniature kit is disassembled. No batteries required. No glue required.
Item Dimensions LxWxH: 6.3 x 5.98 x 14.49 inches
Wood piece: 121 pcs;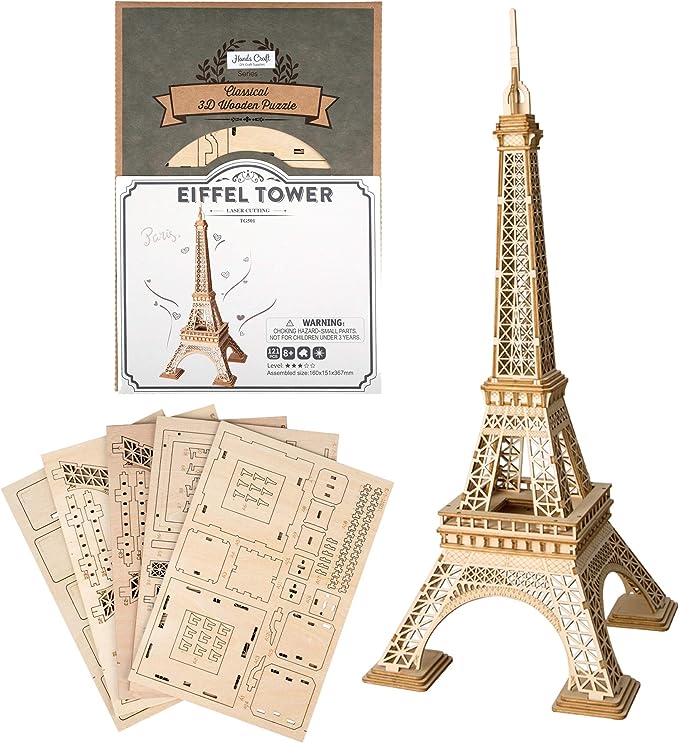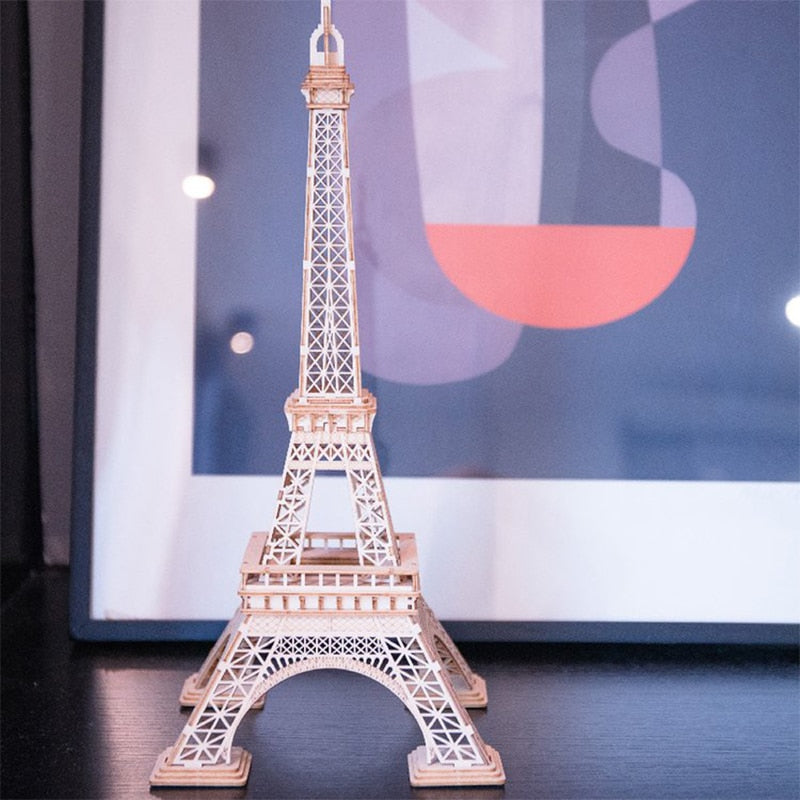 View full details